Multi-disciplinary tumour meetings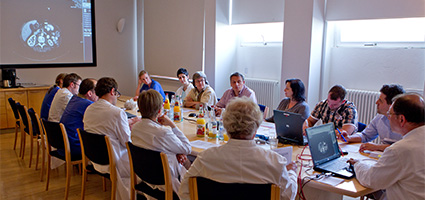 The tumour meeting is a central component of the work in the Oncology Centre. At least one representative of the following departments is present: Surgery, Gynaecology, Respiratory Medicine, Thoracic Surgery, Oncology, Radiology, Pathology and Nuclear Medicine. The outpatient doctors looking after the patient concerned are also invited to the meeting. If necessary, palliative care physicians, psycho-oncologists, social physicians and other experts in oncological care are also consulted.
The aim is to make individual therapy decisions from the different perspectives and professions on the basis of the best possible scientific evidence and to incorporate the practitioners' experiences.
Colleagues in private practice can present oncological patients at the tumour meeting regardless of whether an inpatient admission to the Havelhöhe Oncology Centre is planned or not.
Target Dates
INTERDISCIPLINARY TUMOUR MEETING OF THE LUNG CANCER CENTRE (3 POINTS)
every Tuesday from 3 pm to 4.30 pm
GKH, Building 14, ground floor, room 131
Info:
Stephan Popp
Phone: 030/365 01-6771
E-Mail: tumorkonferenz_at_havelhoehe.de
INTERDISCIPLINARY TUMOUR MEETING OF THE Breast CENTRE and the Colorectal Cancer Centre (3 POINTS)
every Tuesday from 4.30 pm to 6 pm
GKH, Building 14, ground floor, room 131
Info:
Stephan Popp
Phone: 030/365 01-6771
E-Mail: tumorkonferenz_at_havelhoehe.de