Continence and Pelvic Floor Centre
To the contacts
Maintaining urinary and faecal continence and pelvic floor function are important for a good quality of life. When this is no longer the case, or not at all, there are clearly noticeable limitations. Confidential and competent diagnostics and counselling, as well as successful treatment, are then of particular importance. We offer you this expertise.
At our centre, after a detailed history with a survey of your symptoms and limitations, a physical examination with pelvic floor ultrasound, if necessary using 3D technology, is carried out. Further examinations such as a cystoscopy or urodynamic measurement may also be necessary to make a viable diagnosis. Keeping a micturition diary can also contribute to this.

We treat all forms of disorders of continence and pelvic floor function in women.
The following are certified as cooperation partners and as counselling centres of the Havelhöhe Continence and Pelvic Floor Centre:
Dr Dominique Finas, Senior Physician Gynaecology and Obstetrics, Havelhöhe Community Hospital
Dr Bettina Piche, Deputy Chief Physician Surgery, Havelhöhe Community Hospital
Dr Gesa Schenk, Specialist in General Medicine and Gastroenterology, Endoscopy, MVZ Havelhöhe
Dr Hildegard Schmitt, Doctor of Psychotherapy
Dr Athanasios Apostolidis, Senior Physician Department of Urology, Vivantes Auguste-Viktoria-Klinikum
Based on this expert knowledge and competence, comprehensive counselling and therapy follows efficient diagnostic procedures.
The Continence and Pelvic Floor Centre of the Havelhöhe Community Hospital has been continuously certified by the German Continence Society since 2008.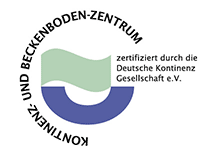 TREATMENT FOCUS
Counselling in all areas of continence and bladder emptying disorders
Counselling for prolapse problems of the internal genitalia (vaginal and uterine prolapse) and the pelvic floor
Counselling and treatment after more pronounced perineal tears during or after birth
Diagnostic clarification of the causes
Surgical, medical, physiotherapy treatments, biofeedback, electrostimulation, provision of aids: vaginal pessary, continence tampon, self-catheterisation of the urinary bladder
RANGE OF SERVICES
Diagnosis of urinary incontinence
Clinical examination with performance of functional tests
Urodynamic diagnostics
Functional ultrasound of the bladder neck and pelvic floor (introitus sonography)
3D/4D pelvic floor sonography: precise imaging of the pelvic floor structures incl. organs and muscles; functional imaging of the pelvis during movement (pelvic floor sonography)
Kidney ultrasound
MRI of the pelvic floor and pelvis
Fistula diagnostics
Diagnostic procedures for faecal incontinence
Clinical examination with performance of functional tests
Anorectal pressure measurement (anorectal manometry)
Endosonography of the rectum
Endoscopy by recto-sigmoidoscopy
Defaecography (dynamic representation of the process during defaecation)
MRI of the pelvic floor and pelvis
Fistula diagnostics
Conservative therapies
Pelvic floor training
Vaginal pessary therapy
Vaginal continence tampon
Electrostimulation therapy incl. stimulation of the posterior tibial nerve via adhesive electrodes on the skin
Biofeedback through self-sensitisation and self-awareness or by means of external probes or a vaginal/rectal probe
Psychotherapy (especially in the treatment of irritable bladder symptoms and urgent need to urinate, involuntary loss of urine and urinary frequency)
Physiotherapy
Bladder training
Irrigation therapy
Eurythmy therapy
Art therapy
Drug-based therapy
Instillation therapy of the urinary bladder e.g. for interstitial cystitis
Prescription of aids, e.g. vaginal continence tampon, self-catheterisation of the urinary bladder
Nutritional counselling
Surgical treatment for stress urinary incontinence
TVT (tension-free vaginal tape): conventional TVT, obturator TVT
Mini slings
Readjustable TVT
Bulking agents
Burch operation (by laparoscopy)
Surgical treatment of genital prolapse
Conventional vaginal pelvic floor reconstruction by anterior/posterior plastic surgery using a needle-thread technique
Mesh-supported vaginal pelvic floor reconstruction
Laparoscopic pelvic floor reconstruction: sacrocolpopexy, Burch operation
Prolapse surgery for enterocele
Lateral repair for vaginal prolapse
Surgical treatment of the different forms of faecal incontinence
Dorsal rectocele correction
Sphincter defect correction
Anal rectal prolapse reconstruction
Haemorrhoid removal